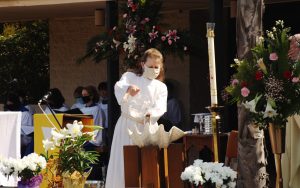 Flowers and Music for Easter
Each Lent and Easter we invite members and friends of Trinity to sponsor the purchase of Easter flowers and to sponsor music for Holy Week and Easter. Your honorariums and memorials will be published via e-news and printed in the Easter Sunday Bulletin.
---
Suggested Donations
FLOWERS
Easter Lilies (15) $15 per
Calla Lilies (10) $15 per
Large Lilies for Narthex (2) $30 per
Flowered Cross for Front Patio (1) $300
Interior Sconce Arrangements (8) $20 per
Paschal Candle for 2023-24 ($250)


MUSIC
Sponsor a Singer $100
Good Friday Special Music $250
Easter Sunday Brass Quintet $200/musician
Please fill out form below with your information and send. 
Make your Donation Here

or you may send a check to the church office.