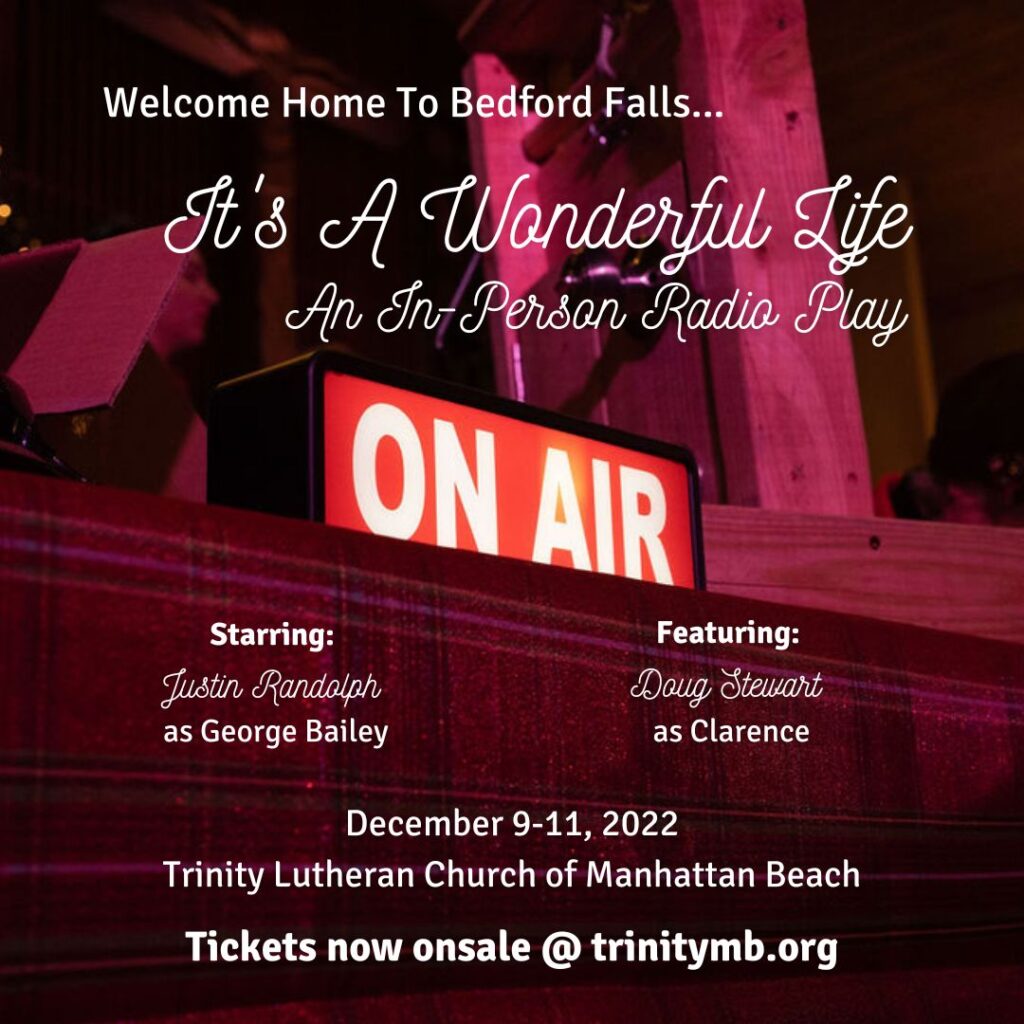 IT'S A WONDERFUL LIFE:
A LIVE RADIO PLAY
Adapted and Directed by Greg Cicchino
December 9-11, 2022
Trinity Lutheran Church
1340 11th St, Manhattan Beach, CA 90266
Fri/Sat. Dec 9, 10 @ 7pm || Sun, Dec 11 @ 12pm
BENEFIT TO SUPPORT LEADERSHIP MANHATTAN BEACH
With the holiday spirit finally back in full swing, Trinity Lutheran Church is thrilled to bring back It's a Wonderful Life for it's second year as part of their Christmas programming. Adapted and directed by Greg Cicchino, It's a Wonderful Life performs live at Trinity Lutheran on December 9th and 10th at 7pm and December 11th following the 10am service, beginning at noon. Benefit tickets are $25, with discounted student, senior, veteran, and group sale tickets. A streaming option will also be available.
This holiday classic, directed by legendary director Frank Capra, based on the short story "The Greatest Gift" by Philip Van Doren Stern, and starring the Hollywood luminaries James Stewart and Donna Reed is the iconic American Christmas story. It continues to garner over 4.5 million views when it is aired each year. It tells the story of George Bailey, the quintessential American, whose sense of duty to family and community cause him to put his own dreams on hold year after year. When something goes terribly wrong and George considers making the ultimate decision, a little help from above shows him that he really does have a wonderful life.
Produced in the style of a 1940s radio play and combined with classic holiday carols and an old fashioned foley table the City of Bedford Falls comes to life before your ears and eyes!
This production stars Justin Randolph as George Bailey. After several years as a professional actor and singer in New York City and regionally (Beauty and the Beast, Sunday in the Park with George), he is now a full time MB resident the owner of Yoga Loft Manhattan Beach. Doug Stewart returns in a new role as Clarence, his extensive theatrical experience includes The 20th Anniversary National Tour of Forever Plaid and the Radio City Christmas Spectacular. The Rev. Douglas Barclay, pastor of Trinity Lutheran Church joins us again, trading in his wings for horns as the sinister Henry F. Potter.
Other cast veterans include: Katie Conlon as Mary, Michael Lindsey as Joseph, Sophia Galano as Violet, Paresh Shah (Chief Expression Officer – Glimpulse) as Uncle Billy, Nancy Stowe as Ma Bailey, Jale Pullen as Dr. Campbell, and Nancy Wood as our foley artist
We welcome new cast members Mitch Jackson, Jeff Johnson, and Lawrence Schnapp; and our caroling trio: Jessie Stein-Sapir, Katie Riley, and Laura Snow.
Adapter and Director Greg Cicchino is a former Off-Broadway director and one of the founding members of The Chain Theatre, and is committed to increasing the quality and frequency of the performing arts in the South Bay.