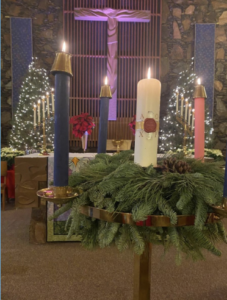 Donate Poinsettias, Greens, and Music for Christmas
Each Christmas we invite members and friends of Trinity to purchase poinsettias, a Christmas tree, and other decorations for our worship space. Please consider making a gift of flowers to Trinity this Christmas. We also look forward to special music during Christmas and gifts may be made to offset that expense as well. Financial gifts to support our ministries are also welcome.
This year our director of music has planned a special lessons and carols to celebrate the season and the 30th Anniversary of our Dobson Pipe Organ. Please consider giving a gift to music to help support this service as well as additional singers and a harp for Christmas Eve.
Suggested Donations
Poinsettia (20) $15
Garlanding $50
Advent Wreath $75
Wreath for Wall (8) $20
Christmas Trees (2) $100
Sponsor a Singer $100
Sponsor an Instrumentalist $250
Please fill out form below with and send.
Then use "Click Here to Give Online button" or you may send a check to the church office.